But who is Martyn Lawrence Bullard?
Martyn Lawrence Bullard is undoubtedly one of the best interior designers of our time. Born in London but based in L.A., Martyn is known as the celebrity designer, with Khloe and Kourtney Kardashian, Kylie Jenner, Tommy Hilfiger and Ellen Pompeo on his client's list. However, Martyn is a celebrity himself as well, having appeared on Million Dollar Decorators, a Bravo's TV Show, and having completed a series of high-profile projects, including both residential and hospitality.
See also: Interior Design Projects in London You Need Know

When it comes to hospitality design, Martyn has designed quite a few around the world, including the Colony Palms Hotel in Palm Springs the Chateau Gütsch in Switzerland, among many others.  
Discover the incredible interior design projects of one of the best interior designers of our times – Martyn Lawrence Bullard.
1#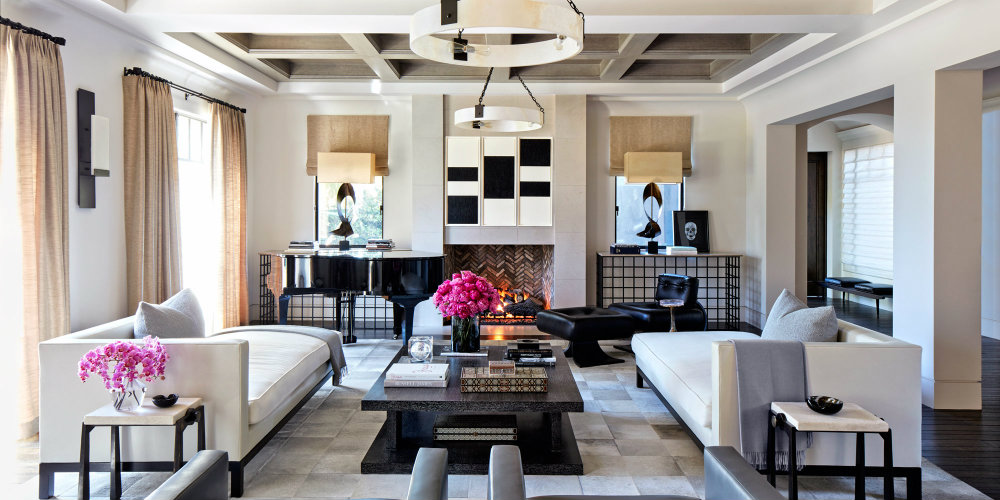 His style is described by many as Holywood glamour. Maybe his A-list client list granted him that title, but the designer grants this to the fact that his firm has captured throughout the years the essence of fantasies and the creation of personal sanctuaries that bring luxury and comfort together in a modern way.
2#
Bullard's inspiration comes from many sources, with one standing out: London, where the interior design grew up. It has influenced his work in the sense that the city is a mix of periods and cultures which translates into his designs.
3#
Martyn has designed the interior of many different projects, from Miami beach houses to 1800's Swiss mansions turned into luxury hotels (pictured above).  
See also: Otto Swivel Bar Chair
4#
The designer keeps reassuring his position as one of the best interior designers with his incredible and bold projects. One of his most recent ones was  Kylie Jenner's home, pictured above. Best Interior Designers: Martyn Lawrence Bullard
Best Interior Designers: Martyn Lawrence Bullard
5#
source: interiordesigner.net
#6
MLB Residence is a Moroccan-meets-midcentury house. The airy interior is a showcase for Martyn's signature "exotica," with loads of Moroccan arches, marble floors, black-and-white tiles, sexy seating, warm leafy accents, cool brass, vintage photography, and Brit wit. An obvious theme is that of mixed patterns, carefully using scale and colour to "complete, not combat".  
#7
A white Living Room with a rose touch, with two mirrors that make the space bigger than it is and a firepit In dark marble. Best Interior Designers: Martyn Lawrence Bullard
Editor´s Choice
See also: Charla Dining Chair
#8
See also: 20 Furniture Shops & Showrooms In New York
#9
#10
The Prospect in old Hollywood (named after the original name of Hollywood Blvd: Prospect Avenue ). The 1930s building oozes old-school charm with Hollywood Regency architecture, hence the glamorous interiors and gilded palm trees.
If you enjoyed this article regarding Best Interior Designers: Martyn Lawrence Bullard then make sure to check out our socials to find news, inspirations, and more interior design ideas: Pinterest boards and Instagram page.