Luxury Shipping Container Homes – Today, The Most Expensive Homes blog is exploring the world of shipping container homes. These houses are versatile and offer a wide range of benefits, from reduced construction costs to eco-friendly housing. Besides costing 40% less than traditionally-built houses, they also allow the recycling of tens of thousands of pounds of steel and can include renewable power roofing and next-level insulation to reduce the carbon footprint. Keep reading to find out more about these modern infrastructures.
---
See also: Paris Hilton's Malibu Getaway 
---
0 Wagon Wheel Road, Joshua Tree, CA
With a starburst shape, this house in Joshua Tree, California, stands out from the conventional houses not only due to its unique design but also due to the materials used for its construction and the way it fits its surroundings. Designed by London architect James Whitaker, the bright white residence contrast with the rocky desert terrain and is perfectly situated to take advantage of the landscape.
Graceville Container Home, Brisbane, Australia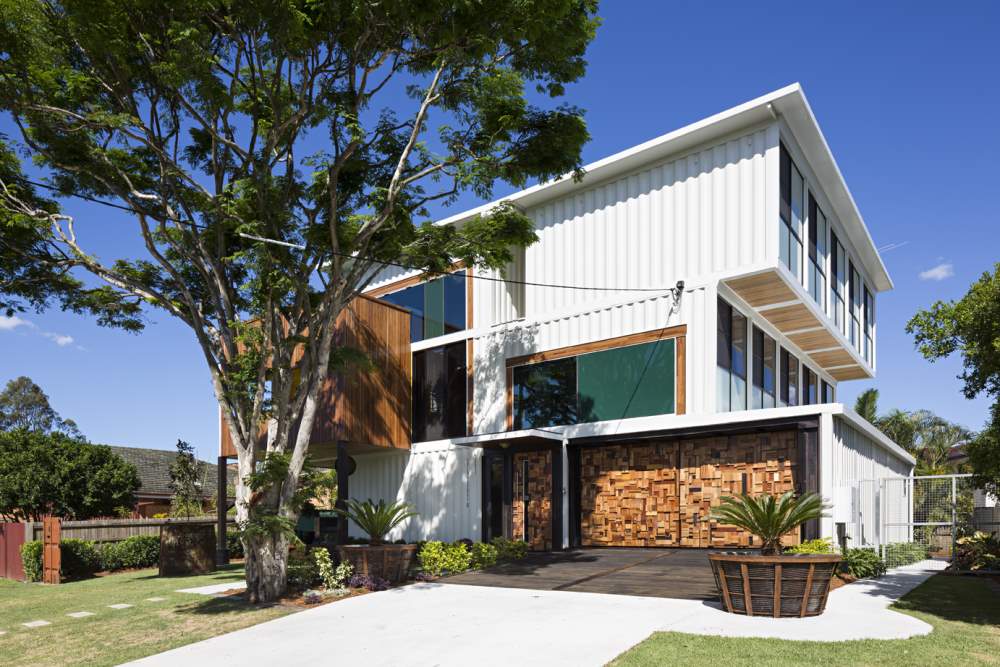 Located in Australia, this house is one of the finest large container homes in the world. After the 2011 Queensland floods, Todd and Diana Miller decided to rebuild their entire house using shipping containers due to the construction speed and sustainability they allowed. 31 20-foot shipping containers were assembled and the result was this beautiful and luxurious house that took only six months to build. With ample glass and industrial details, they created a house that stands out from the more traditional family ones in the neighbourhood.
---
---
The Courtyard House, Costa Rica
A project by Studio Saxe, this amazing villa located in Costa Rica is a less industrial take on shipping container houses. With the goal of creating a connection with the surrounding landscape in mind, this house mixes modern building techniques and handcrafted natural materials. The house is built on a hilltop and offers two horizontal pavilions separated by an internal garden, an infinity pool, and a terrace.
Editor's choice:
---
See also: The Perfect Pool Area With Mysa 
---
The Beach Box, Hamptons
The first house built from shipping containers in the Hamptons was designed by Andrew Anderson and built in 2011. It is made from six recycled containers and offers four bedrooms, two-and-one-half baths, a pool and a roof deck with a view of the Napeague Harbor and the Atlantic Ocean. It also includes other sustainable materials like a white rubber roof, known for reducing energy cost, cypress siding, cedar decking and bamboo fiber.
Editor's choice:
---
See also: The Most Luxurious Coachella Airbnbs 
---
Grillagh Water House, Ireland
Created by architect and farmer Patrick Bradley, this is the first ever shipping container home to be designed and built in Ireland! Located on the banks of Grillagh River, this modern house came to life through the use of four 45-foot shipping. The main goal was to build a house that worked as a sculpture in the landscape but also blended in with the surrounding area. The inspiration behind this building? Frank Lloyd Wright's iconic Falling Water house!
Amagansett Modular, New York
Amagansett Modular is a 1800-square-foot house located on the Long Island's south shore, built by MB Architecture and assembled in just two days! With a simple layout, the designers took advantage of the rectilineal geometry of the containers to create a modern house for a family of five.
---
See also: Luxury House Ebook
---
If you enjoyed this article about Luxury Shipping Container Homes or other interior design-related matters, then feel free to find more interior design inspirations on our Pinterest boards and Instagram page.