Bathrooms Inspirations To Die For – Bathroom design ideas come in all shapes and sizes in unexpected ways, full of glamor and vibrancy with amazing colors that fill your space with life and air! The amazing sanctuary pictured here is full of luxury, and the gorgeous combinations of objects and shapes will inspire you to completely renovate your home!
This amazing bathroom design in a true fantastical mixture of darks and whites, generating one of the most blissful, unique and astonishing bathroom design ideas. A beautifully bathroom illuminated by the Tycho Small Wall Lamp is meant to make you feel as if you're in a sanctuary where the rest of the world isn't allowed in; it's all about yourself, and its sense of harmony that the design clearly emphasizes.
See also: Marvel At This Exclusive Miami Property By Luxxu
Let yourself be inspired by this luxurious bathroom with furniture that promises to steal all the limelight. We guarantee that with these inspirations, your home will be unforgettable.  
The view of the molten marble from the Petra washbasin takes you to the city of Petra, where the building is carved right into the stone cliffs. Adding this vanity to your bathroom is sure to ensure a luxurious and stylish environment. The Petra washbasin has a high-gloss black lacquered wood construction with spacious, functional drawers on the front. Complete with a carved fusion vessel sink made entirely of one block of Ibiza marble.
See also: Luxury Christmas Design – The Most Exquisite Presents You Deserve

This black marble bathroom features an extremely luxurious feel that is hard to achieve. Final touches in gold create an incredible design that you'll absolutely adore.
Helen Green Design is one of Britain's leading interior design practices. Founded by the late Helen Green in 2002 and now led by Natalia Miyar, the company comprises over twenty designers and architects with a wealth of experience in design, architecture, furniture and product development. That washbasin is one of our favorites ever!  
See also: Gala Floor Lamp
Helen Green Design design the most stunning interior design projects. This bathroom captures perfectly this firm's aesthetic.  

See also: Beyond Console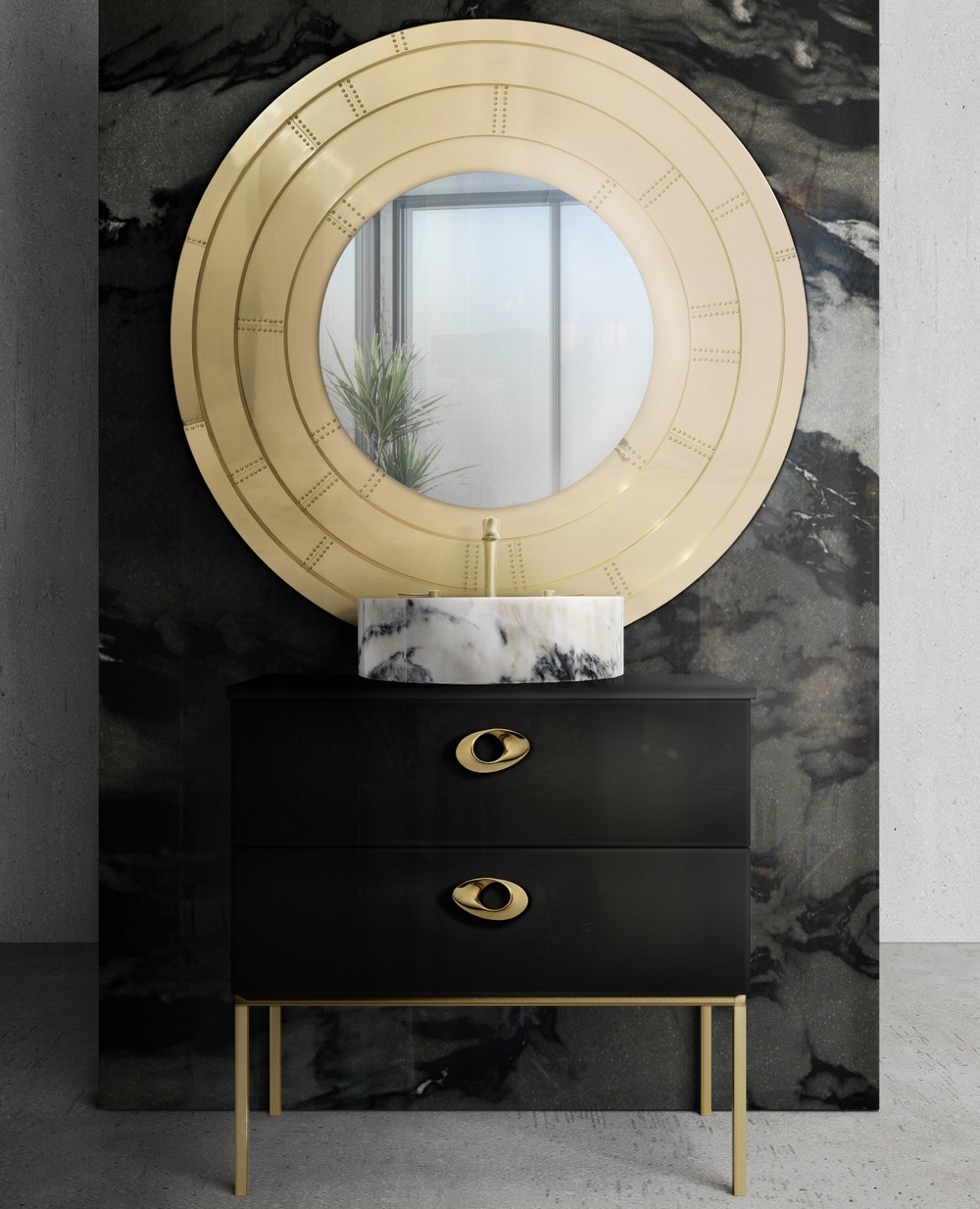 The best interior design tip the attention to detail. Every inch of your décor counts. Even the 'jewels' we choose for your high-end furniture pieces! The beautiful round mirror also reveals the lighting solution for this bathroom décor and it couldn't be more appropriate.  
If you enjoyed this article regarding Bathrooms Inspirations To Die For then make sure to check out our socials to find news, inspirations, and more interior design ideas: Pinterest | Facebook | Instagram.