Luxury Bedroom Design Ideas  – Nate Berkus is a household name in the world of interior design. He owns the Chicago interior design business Nate Berkus Associates and has appeared on The Oprah Winfrey Show several times, delivering design advice to viewers and planning surprise makeovers for people's homes. In today's article, Most Expensive Homes Blog turns its attention to the bedroom, as we collect the perfect inspirations from this incredible interior designer.
---
See also: Master Bedroom Design – A Closer Look At Luxxu´s Mont Blanc Chamber
---

Luxury Bedroom Design Ideas
This property in West Hollywood's Sunset Strip was turned from a futuristic 1960s time capsule into a sophisticated pied-a-terre for Nate's world-traveling customers. The eclectic and unique aesthetic was showcased throughout all of this project and this wonderful bedroom was of course no exception.
Sophisticated, warm, and cozy, these would be the best adjectives to characterize this lovely Nate Berkus bedroom in a stunning Hancock Park Estate. The clean and bright color palette combined with the elegant lines that compose the fabulous upholstery in front of the bed turn this room into something that is more than just a place to rest.
Editor's Choice
---
See also: Opera Single Sofa
---
If You Loved These Wonderful Bedrooms
Glare Into These Dreamy Designs By Luxxu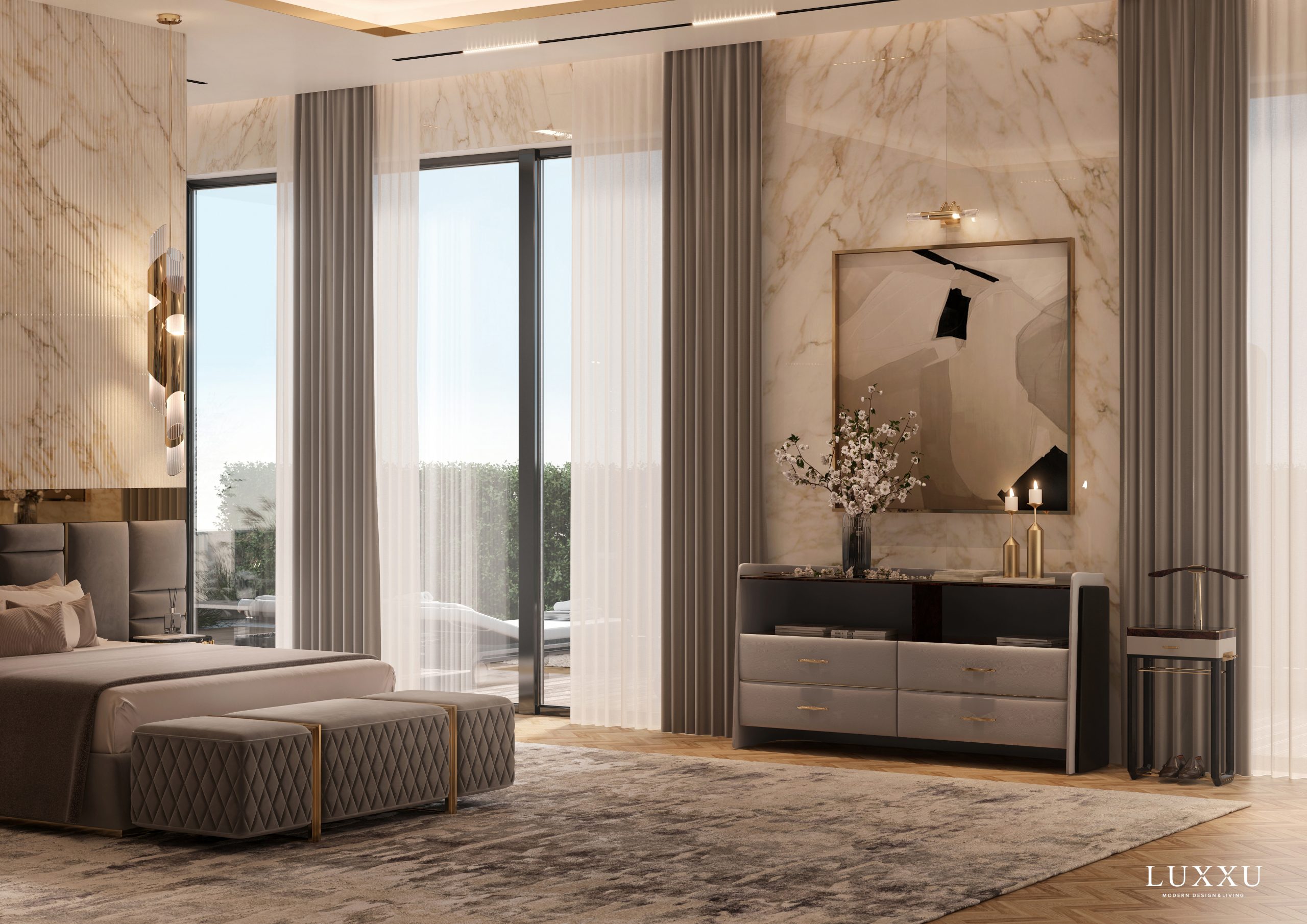 This bedroom suite presents stone walls that showcase all the grandeur of veined marble. Moreover, the sleeping arrangement was appointed with LUXXU's classical bedroom essentials, including the Château bed with its massive headboard dressed in gray leather and brass details.  
The major draw of this bedroom is a wall-sized window with a spectacular view of New York's famed skyline. When it comes to master bedroom design, the bed is always going to function as the center stage for the rest of the bedroom's décor, therefore for this bedroom, an iconic item was needed for such an iconic atmosphere, so the magnificent Charla Bed was chosen to integrate this design project.
Neutral tones always bring exclusiveness to this bedroom closet. Waltz closet is an elegant modular clothing storage solution. Made with the finest materials, walnut root veneer, black leather, black lacquered wood, brass, and smoked mirror. Waltz is the ideal closet for a luxury master bedroom offering a fully customizable organization system featuring shelves, rods, and drawers. 
Get The Look
---
See also: Prisma Ottoman
---
In Need Of More Inspiration?
Check These Exquisite Bedroom Delights By Other Luxury Brands
A contemporary bedroom with a warm and summer-like design that looks simply perfect to be a sophisticated and appealing retreat. Moreover, this wonderful bedroom is decorated with stunning PullCast Hardware, the fabulous cabinets are adorned by the iconic Keysa Door Pull in order to add an appealing cosmopolitan feel to this area.  
This captivating design item contains one-of-a-kind embellishments developed via the talents of our skilled artisans, guaranteeing that it shines out in any bedroom setting.
---
See also: Bedroom Ambiences with Luxury Design Brands
---
If you enjoyed this article regarding Luxury Bedroom Design Ideas then make sure to check out our socials to find news, inspirations, and more interior design ideas: Pinterest boards and Instagram page.