Meet Pappas Miron Interiors – An Amazing Design Studio –  Meet the principles of living well in relaxed, modern environments. Tatyana and Alexandra share a love for antiques and vintage textiles as well as an appreciation for new artisans work and inspiring new materials. Today we brings you some of these incredible projects.
The founders of Pappas Miron Design developed an appreciation for beautiful interiors, art, and travel from a very young age. Design, decoration, and collecting were such an integral part of their lives that it was inevitable that the pair—Alexandra Pappas and Tatyana Miron—would grow up to found an interiors firm. Check the incredible projects of this duo.
East End Avenue
This project is full of life, with vibrant colors that stand out in each room. Gives a feeling of comfort but at the same time the idea of a bold style. East end Avenue is just absolutely dazzling and combining that with functional furniture is just brilliant.
See Also: An Hymn To Celebration And Togetherness In Covet London's Dining Room
Upper East Side II
A young professional couple had owned another investment property in the building, but had been hoping for something more permanent. They then hired Pappas Miron to help make it a home. With this project, the biggest challenge would be the lighting. This is a hallmark of a Pappas Miron space — luxury, functionality, and plenty of genius ideas.
Brooklyn Townhouse
This vibrant Brooklyn townhouse has character. With a vintage style this project breath comfort and coziness. Every room you find in this house keeps a fresh and breathtaking aesthetic that produces the cleanest of looks and you just can´'t help but marvel at it and be completely amazed.
East Village
The clients wanted an open-concept living but at the same time making the design new and fresh. East Village rocks with its innovative and bold style. It's simply inspiring.
Gramercy Park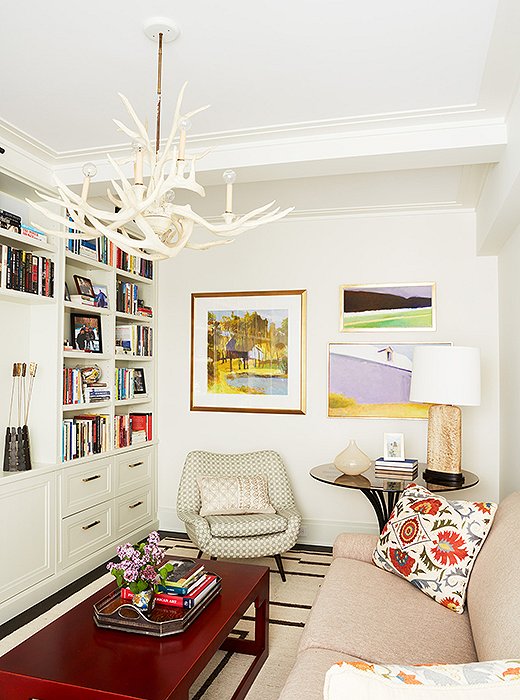 Working with architect David Mansfield of dMADpc, the duo completely reworked the new space's layout to maximize the functionality of every square inch, then selected finishes and furniture to infuse the rooms with a polished sense of comfort. From a flattering lighting scheme to perfectly applied wallpaper to expertly styled bookshelves, the apartment is packed with inspiring ideas.
 Kips Bay Decorator Showhouse 2019
Kips Bay Decorator Showhouse 2019 contracted  Pappas Miron Design as they lead the redesign. Only the best interior designers are invited to transform a luxury Manhattan home into an elegant exhibition of fine furnishings, art and technology. Today, we show you this project to get inspired.
Carnegie Hill II
Carnegie Hill is a neighborhood within the Upper East Side, in the borough of Manhattan in New York City. This project it's completely inspiring and has a flowery touch, the best for inspiring you in this spring. Green reigns in this project.
See Also: Inside The Luxurious Living Room Of A Private Show Flat In London
Boston Residence
This Boston residence by Pappas Miron Design has a great mix of styles. That sofa in the  picture covered in Jack Lenor Larsen fabric.
1970s Colonial-style house in Southampton
In the case of a 1970s Colonial-style house in Southampton, a casual question about tile led to a complete gut renovation. Designers Alexandra Pappas and Tatyana Miron, the principals of Pappas Miron Design, were working on their clients' bathroom renovation in the city when the owners purchased a house in Southampton and nonchalantly asked whether the duo thought the kitchen tile would be easy to change.
See Also: Interior Design Projects in London You Need Know
Upper West Side
Upper West Side is a beautiful place to be with family and friends, eating and drinking and taking long walks, naps, eating outdoors. It is sophisticated and youthful, bright and moody, old and new. A complete project.
See also: The Best Design Showrooms in New York
If you enjoyed this article about Meet Pappas Miron Interiors – An Amazing Design Studio, then feel free to find more interior design inspirations on our Pinterest boards and Instagram page.