Christmas 2022: Luxurious And Nostalgic Decor Ideas By LUXXU – Christmas has always been such a nostalgic season for so many. To enter the spirit of the season, LUXXU has gathered a series of new ambiances for one to decorate their home in a unique way. Find a new series of holiday decor ideas for different divisions, from the entryway to the dining room in this new article by The Most Expensive Homes blog. Classical Christmas adornments set the mood while luxurious design details were introduced to create a memorable atmosphere. 🌟🕯
---
See also: Christmas Markets: A Guide Through The Best Places To Visit In Europe
---
Christmas 2022
Luxurious And Nostalgic Decor Ideas By LUXXU
Entryway To A Winter Wonderland
For this entryway, LUXXU opted to make a statement with the Orbis Rectangular mirror and then added some Christmas cheer by adding forest green leaves in a compact form. Brown and golden tones also offer warmth to this area. Designs such as the Magna table lamp, Nubian console, and Armour stool introduce an extra layer of detail and luxury.
Hallway Of Polar Inspiration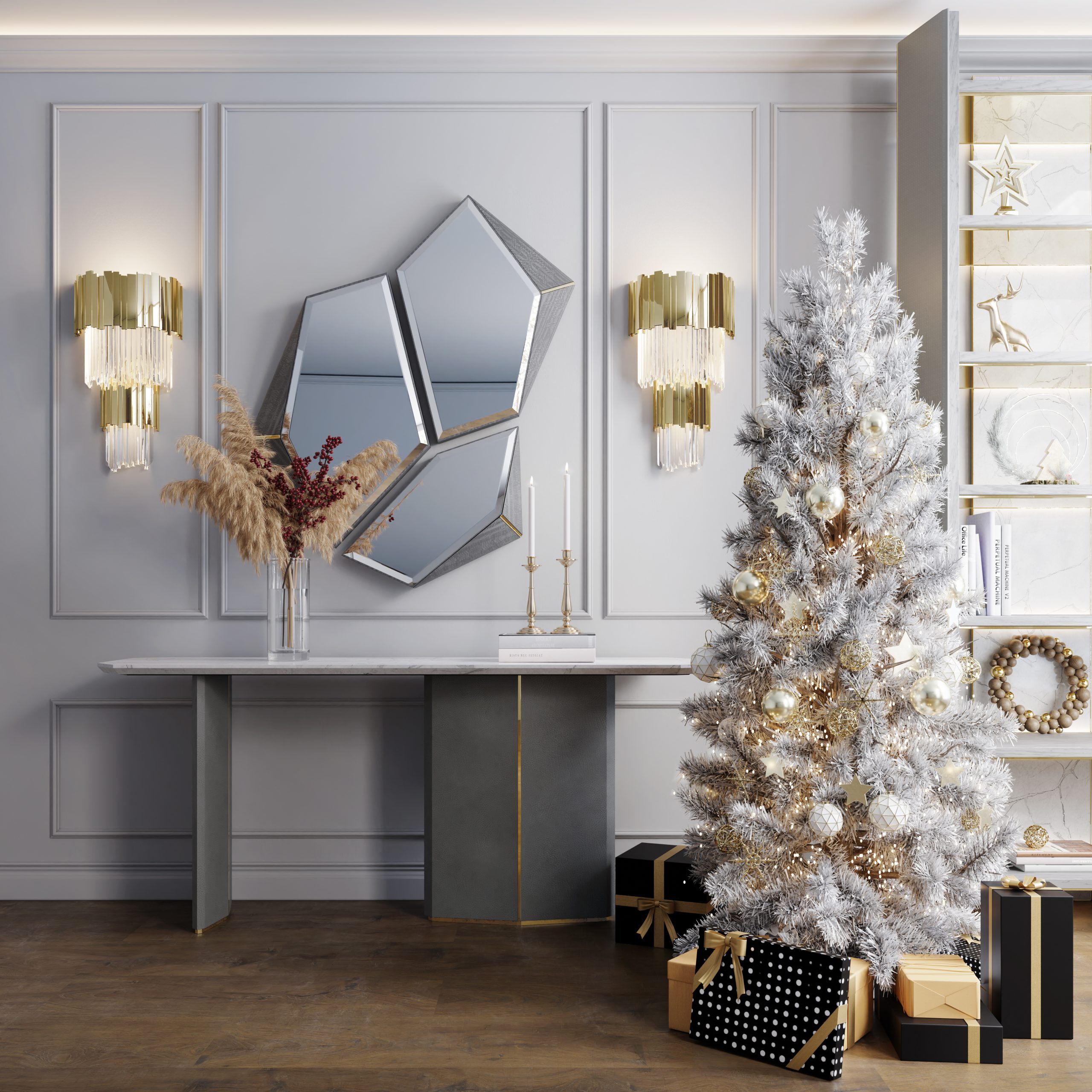 This Christmas ambiance has a snowier aesthetic with a neutral color palette taking precedence. While the tree and ornaments muster all the joy of the season, other elements bring a new level of luxury at Christmas time. For instance, The Algerone mirror introduces a sense of drama and uniqueness, making this area feel even more special. The Empire wall lamps add extra detail and smooth lighting through their brass and crystal glass form. Lastly, the Algerone console offers an architectural spin while blending seamlessly with the atmosphere.
Get the look:
---
See also: World-Class Design Inspirations
---
Lounge Area With A Warm Christmas Atmosphere
In this interior, a series of Christmas ornaments and a tree already give you all the season's feelings. The Crown mirror with its regal aesthetic seamlessly matches the astounding beauty of the McQueen chandelier, a handmade piece comprised of butterflies and flower motifs that will put you right in a joyful mood. Lastly, the Nubian sideboard embodies elegance and geometry galore to a new level.
Dining Rooms For A Silent Night
The dark-toned walls introduce a contemporary touch to this dining room. The nutcracker figurines take you on a sentimental journey that is further enhanced by opulent design details. The Apotheosis dining table and the Charla dining chairs make an empowering combination. At the same time, the Gala II suspension and Skyline wall lamps round up the decor and brighten up the area. 
---
See also: Cristiano Ronaldo: Discover The Hotel In Qatar Where He Is Staying
---
In this dining room, a more intimate and sober attitude was intended. The dining table is fully decorated with an endearing Christmas showcase. Above, the Pharo suspension adds more aesthetic value with architectural features, and right next to the tree, the Pharo table lamps offer smooth lighting.
Get the look:
Living Room Worthy Of Father Christmas
This Christmas-styled living room seeks to convey all the warm and comfy vibes associated with the holiday. The Anguis sofa and Saboteur single sofas will be the topic of conversation due to their plush attributes. These are ideal pieces for family gatherings where comfort is the key to a good evening. Furthermore, the Thor center table adds stately luxury, and the Christmas tree is actually decorated with kids-themed decorative hardware adornments by PullCast that will leave children delighted. 
---
See also: LUXXU Stocklist
---
---
If you enjoyed this article regarding Christmas 2022: Luxurious And Nostalgic Decor Ideas By LUXXU, you can also find more interior design inspirations on our Pinterest boards and Instagram page