Gorgeous Kitchen Decorations That Will Astound You – It's crucial to maintain kitchens neat, immaculate, and highly presentable, just like any other room in the house, but if a full kitchen redesign isn't in the cards, the next best thing is to discover small methods to spruce up your cooking space.
See also: Modern Kitchen Design – A Blend Of Design Ingredients In Paris
Take A Look At These Gorgeous Kitchens By Renowned Designers
The charm and beautifulness of this clean-looking kitchen cannot be denied. The white that fulfills the exquisite furnishings of this kitchen is complemented by the wonderful golden touches applied in the kitchen hardware and bar chairs. This is truly a room that can captivate any eye at a mere glimpse.
A modern premium kitchen by Studia 54 is perfection in detail, adapted to the owners' needs with innovative appliances, on the level of restaurants with three Michelin stars, and exclusive decoration. In such a kitchen the owners will brew aromatic coffee in the morning and have wine tastings with friends in the evening.
See also: The 5 Most Expensive Homes In The World Right Now

If You Enjoyed These Unique Kitchen Decorations
Check These Modern Kitchens By Luxxu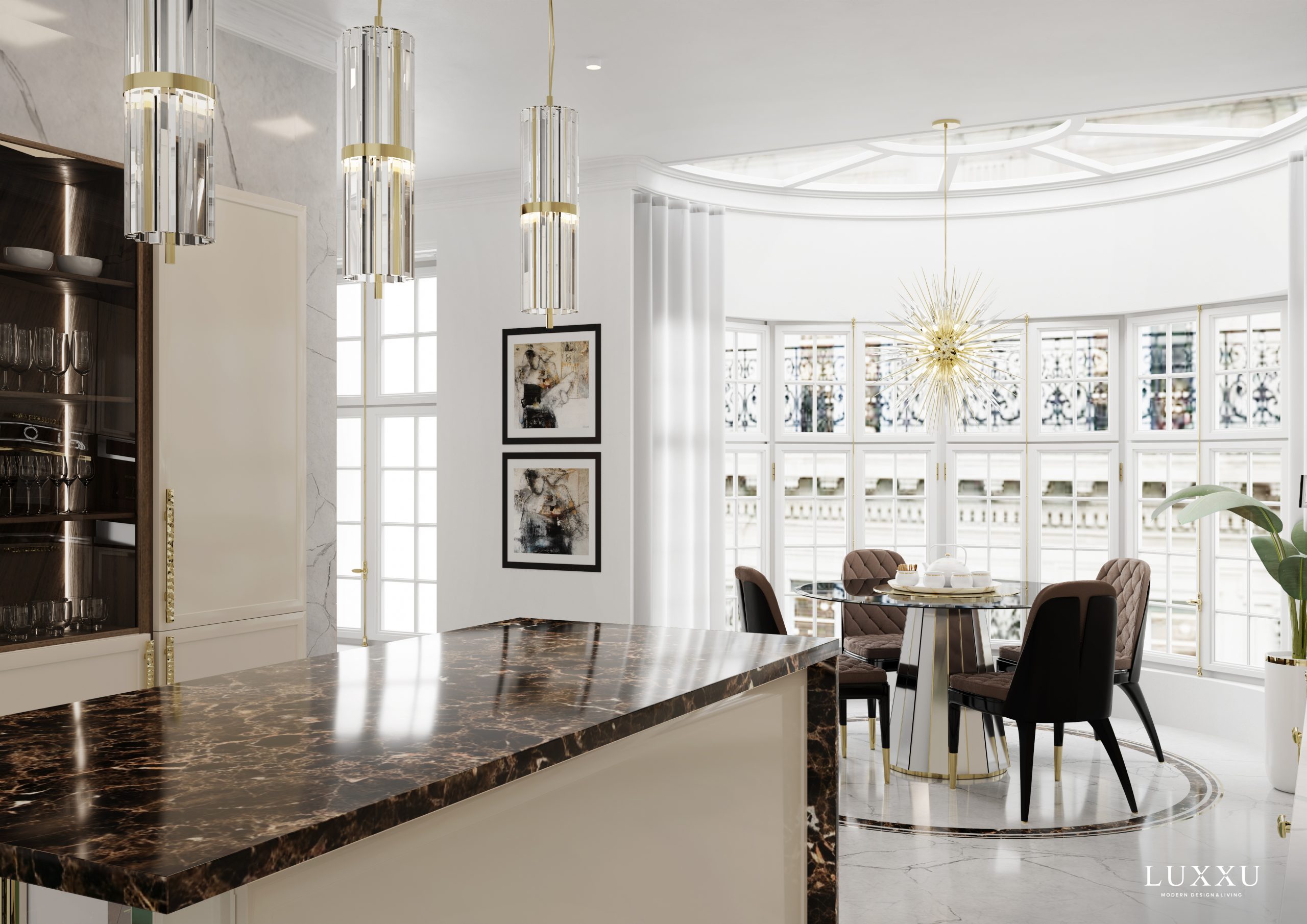 This is the most contemporary kitchen you will see. This room embodies the French way of life by being practical and simple, with high-quality materials that define the design.
Marble was used as the material to lavishly embellish this area in black and white tones, including the walls, floors, cabinetry, and kitchen island. The Shard Suspension, a one-of-a-kind lighting fixture with a strong presence and personality made of brass and crystal glass, complements the kitchen's marble concept well.
The Saboteur Swivel Bar Chair is a lovely velvet bar chair that harkens back to the classic elegance of noir films. It's perfect for modern kitchens, bars, bistros, and lounge areas. It's a fantastic choice for any modern kitchen design.
See also: Cristiano Ronaldo's Private Italian Mansion
If You Enjoyed These Fabulous Kitchen Designs
Let Us Provide You With More Luxurious Ambiances By Other Luxury Brands
The magnificent NANOOK Counter Stools and NAICCA Pendant Lights are featured in this modern and stylish kitchen. The NANOOK Counter Stool features gold nailhead trim and a button accent on the inner back. It was inspired by Nanook, the bear master, and reflects his beauty and majesty. NAICCA Pendant Light has an antique brushed brass frame with a Quartz crystal diffuser to create a warm and welcoming environment.
Blue is a traditional option for interiors, but in recent years, gentler and fresher colors have been a go-to for interior designers, thanks to this aquatic shade's highly soothing impact. It is described as one of the most adaptable, strong, and beautiful tones, and it adds character to any area, including the kitchen, as No20 Counter Stool demonstrates admirably.
If you enjoyed this article about

Gorgeous Kitchen Decorations That Will Astound You,

you can also find more interior design inspirations on our  Pinterest and Instagram page.