Office Designs To Admire With Tom Dixon – Tom Dixon, a British premium design firm founded in 2002, is represented in 90 countries and employs more than 100 people worldwide. Tom Dixon is a furniture, lighting, and accessories designer with offices in London, Milan, Hong Kong, Los Angeles, New York, Tokyo, and Hangzhou.
The pieces are worldwide recognized and respected for their pioneering use of materials and processes, with a style that is intrinsically influenced by the brand's British heritage.
In today's article, The Most Expensive Homes Blog will bring you some stunning office designs by this famous interior designer and provide you with some inspiration from other luxury brands as well.
See also: Modern Office Design – Contemplate This Office Statement Design By Luxxu
See These Marvellous Office Designs By Tom Dixon
The mid-century approach of Tom Dixon's design is a trademark of its work and this magnificent office design contains a mixture of modern and rustic elements that blend seamlessly with the neutral color palette.
The lively colors really give this office an extremely unique essence. The combination of modern and classic styles creates a distinctive ambiance that you simply have to admire.
See also: Kitchen And Dining Room Inspirations For An Unique Decoration
Get Yourself Some More Inspiration With Luxxu
Check These Modern Office Designs
Paint colors are utilized as a guideline, and this area was designed to seem sensual, strong, and concentrated. The charcoal green paint finish is matte and chalky, allowing the furniture and decorative objects to take center stage. This little area is made to feel magnificent with the Pharo Floor, Waterfall XL Wall, and Gamma Table Lamp to brighten this dark tone room.
Luxxu specializes in office furniture, and this was one of the most significant rooms in the house: the Charla Office Chair, Lloyd Bookcase, and Apotheosis Desk are the ideal pieces for the ideal workspace.
This opulent workplace is more than just a desk and a chair. It's a state of mind, a way of existence. After all, that's where our customer gets away from it all, organizes himself, and grows his empire. The Apotheosis Desk is a strong and useful statement piece that comes with a USB port for optimal accessibility.
Furthermore, the Apotheosis Bookcase was installed not only to give flair to the space but also to keep the client's collections from various excursions. The Anguis Sofa provides a moment of quiet and relaxation, while the Crackle center and side tables complete this exquisite space's design.
Every now and then there will obviously be the need to take a break to rest and relax from the hard work that was put in and Luxxu equipped this workspace with the perfect resting corner. A simplistic yet luxurious décor with an attractive subtlety about it is how we can perfectly describe this area of the office.
The refinement that is demanded regarding a fabulous resting place such as this one was brought by the Charla Chaise Longue, its iconic lines provide the right amount of luxury and comfort. This piece was paired with the Pharo Floor Lamp to bring this corner more clarity where one can unwind and enjoy a drink or even read a book.
See also: 10 Ideas For A Modern Luxury Dining Room
In Need Of More Inspiration?
Check Out A Couple Of Office Designs By Other Luxury Brands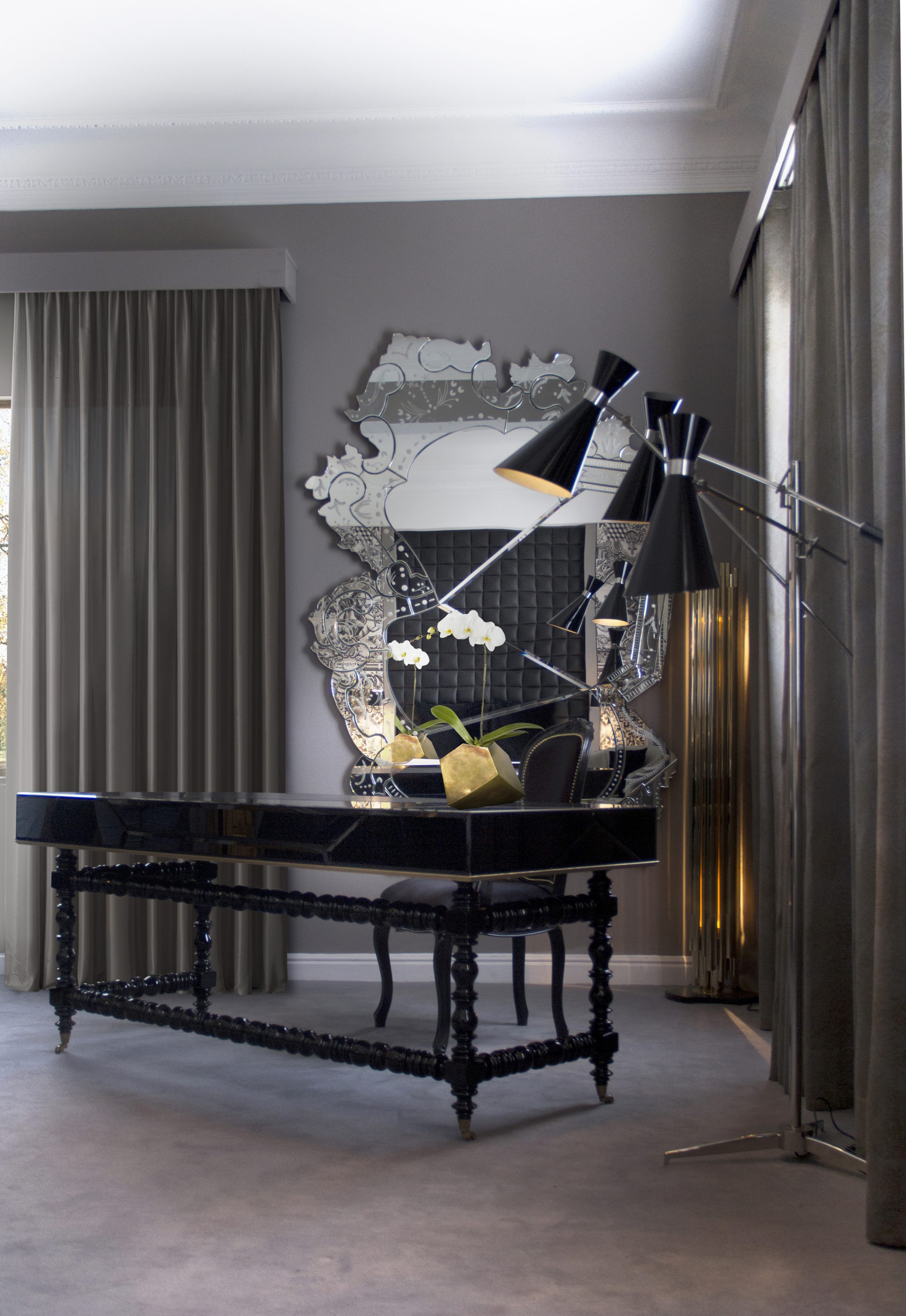 Boca do Lobo's Manu Desk and Venice Mirror are an ideal match for exquisite home office decor.
The Pixel Sideboard is a ground-breaking piece of pioneering design that is both iconic and unique. This modern sideboard provides a lively mood in the private office by experimenting with perception, remarkable materials, and bright arrangements.
See also: 5 Gorgeous Dining Room Design Trends That You Simply Can Not Miss 
If you enjoyed this article about Office Designs To Admire With Tom Dixon or other interior design-related matters, then feel free to find more interior design inspirations on our Pinterest boards and Instagram page.