Opulent Dining Room Ambiances You Need To See With Jean-Louis Deniot – Jean-Louis Deniot has long been in the business of creating atmospheres, having been named to lists of the world's top architects and interior designers. His interiors are his playground, places where whimsy and enchantment reign supreme. Jean-Louis Deniot is known for his varied and iconic interiors, and he performs in a variety of repertoires, allowing his academic degree to transfer into a lexicon that is both casual and bold.
See also: The Prime Of Interior Design – Discover The New Charla Home By Luxxu
Grace and glamour are always present in the magnificent work of Jean-Louis Deniot, this exquisite dining room was gifted with a stunning statement chandelier that embodies the full opulence of this room.
Nothing looks as soothing as a blue color palette, wouldn't you agree? This marvelous dining area looks like it was taken straight out of heaven, as the many blue shades match beautifully with a graceful interior design selection.
See also: 10 Ideas For A Modern Luxury Dining Room
If You Enjoyed These Gorgeous Dining Room Designs
Discover These Marvellous Dining Room Designs By Luxxu
For a luxurious dining room to be complete, you need luxurious lighting, and the Pharo Snooker Suspension brings is one of those statement pieces that will undoubtedly stand out due to its breathtaking design, not only is it possible to get amazing lighting that highlights your entire dining room design but also a sense of glamour that cannot be overlooked.
A grand dining area where the Shard suspension, inspired by the renowned Shard London Bridge skyscraper, makes quite an amazing statement with its powerful character as well as brass and crystal glass embellishments. The Darian sideboard and the Scala mirror, both of which showcase a dynamic yet irregular look, have also been introduced to this arrangement.
The unique Beyond dining table, as the major element in the space, has a commanding presence, yet the white lacquer allows it to fit in seamlessly with the mood board. Because a daring customer requires an audacious piece of lighting, the Babel II suspension, with its metallic glitter, flows with the ceiling.
See also: 5 Gorgeous Dining Room Design Trends That You Simply Can Not Miss
In Need Of More Inspiration?
Discover These Dining Room Designs By Other Luxury Brands
It takes decades to construct a great empire, and those who rise after falling gain their full power. It goes without saying that major choices are made around powerful tables surrounded by determined minds. The Empire dining table represents decades of gatherings and decisions, both happy and sad. Its fissures represent difficult times, unveiling a gold inside in a manifesto for power. The remaining surface is flawless and brilliant, pointing to a prosperous future and prompting one to toast to success.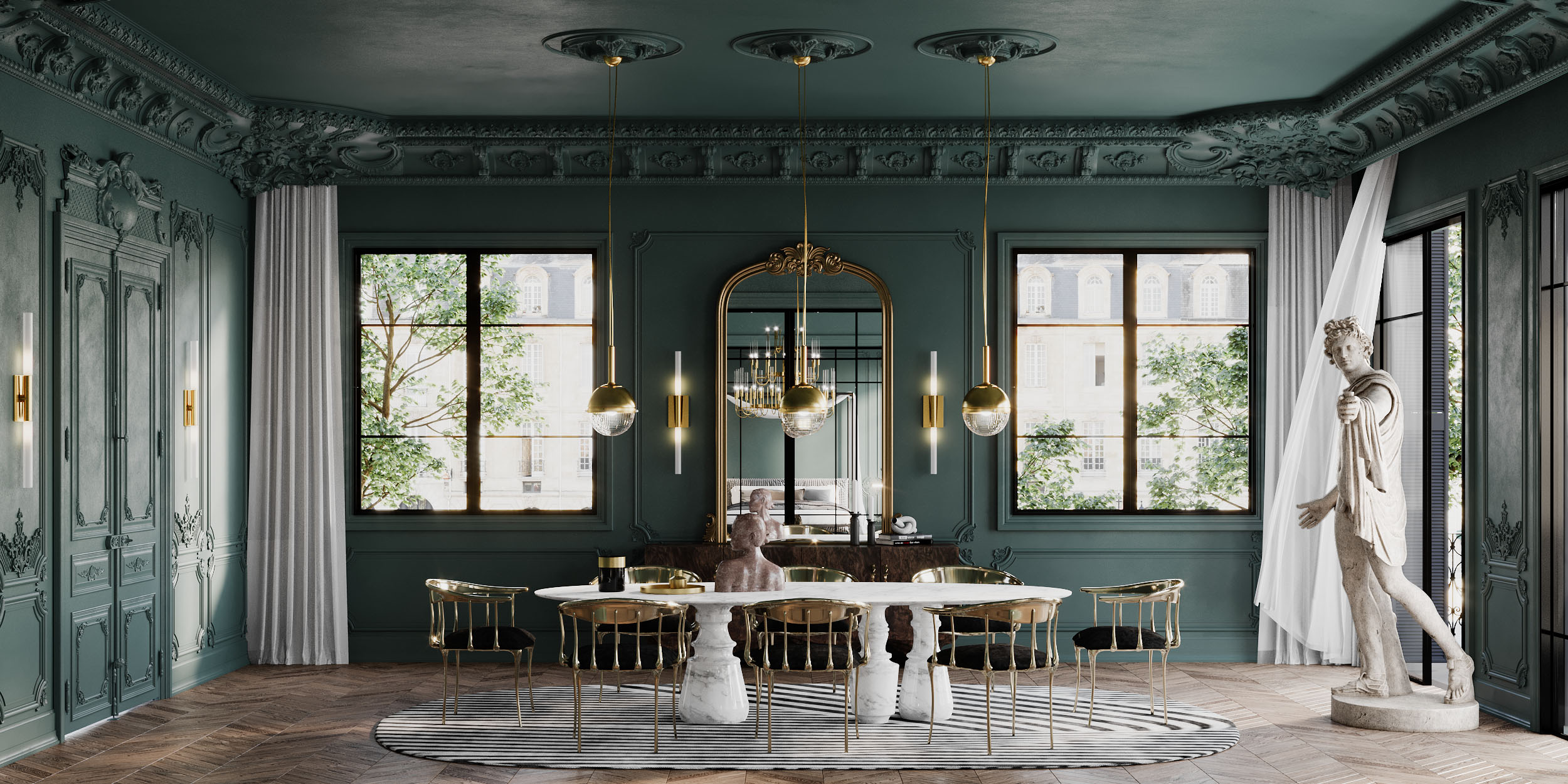 Pietra dining table, with its classical atmosphere and finest Estremoz white marble, crafts a timeless experience by experimenting with function and sculptural form. Its circular top, reminiscent of the Renaissance era, is softly supported by three sturdy marble columns, each designed from solid blocks hand-sculpted and rotated to provide varied features for added richness. A magnificent material carved in the workshops of Boca do Lobo, resulting in a heartfelt statement dining table suited for elegant and sophisticated dining spaces. Pietra is designed for eight seats and has a modern vibe that is easily attractive. It is suited for indoor or outdoor use.
See also: Kitchen And Dining Room Inspirations For An Unique Decoration
If you enjoyed this article about Opulent Dining Room Ambiances You Need To See With Jean-Louis Deniot or other interior design-related matters, then feel free to find more interior design inspirations on our Pinterest boards and Instagram page.