The Most Exquisite Center Table Ideas⇒ When it comes to inspiring people with amazing designs, Luxxu takes the front place. Luxxu can be perceived as a brand that always puts perfection in details as the main thought and gives the most luxury appeal design to every piece. Center Tables are not excluded and today The Most Expensive Homes Blog will show you amazing ideas in this article.
Luxxu has a perfect design form
Thor Center Table
Expertly crafted with Nero Marquina marble, black lacquer, polished brass and with a smoked mirror top, the Thor Center Table is a stately design. This impactful piece was created to be the center of attention of any living room.
See also: Top Dining Chairs Ideas
Newson Center Table by Essential Home
Newson is a mid-century styled low coffee table ready to set a tone in your living room look. Its unique mid-century modern structure is made in polished brass with several pieces embedded in the top's base.
Mayer Black Center Table
The ultimate expression of a luxurious lifestyle, the Mayer Black Center Table is made of high-quality noble materials, such as brass and Nero Marquina marble. Designed for a lavish indoor space, this Center Table is the perfect piece for a sophisticated living room.
Monet Center Table
Depicting nature in an innovative way, the Water Lillies series are gently brought to life in an elegant coffee table with gold surface made from cast brass with a unique textured finish. Featuring both contrasting shapes and materials, as the unconventional compositions of the artist, the contemporary coffee table is supported by a geometric acrylic base, allowing to capture natural light. An immersive exceptional objet, the Monet center table is perfect for cutting-edge living rooms.
Solaris by Lara Bohinc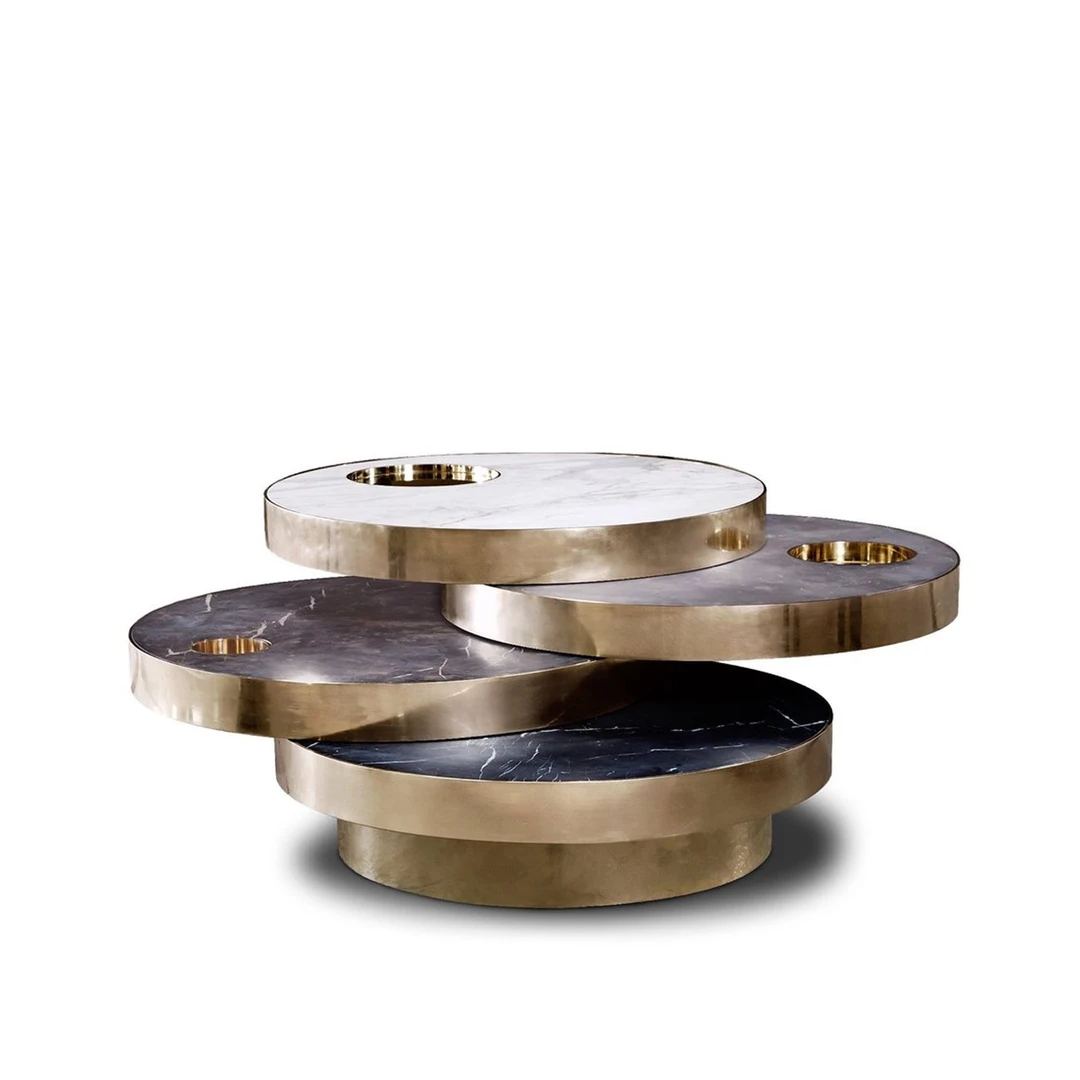 The Solaris Kinetic table from the Solaris Collection is the result of the collaboration between Lara Bohinc and stone expert Lapicida for the Wallpaper magazine handmade exhibition in Salone del Mobile Milano. This uniquely designed table is made up of four stacked rings of marble plates which are moving smoothly on a rotation spindle like a range of orbits. The table is ever changeable, as the plates can be easily moved around its axis, allowing it to go from a totally closed circle to spread open reaching almost double the size. This table is a limited edition of ten.
Jacques Grand by Jonathan Adler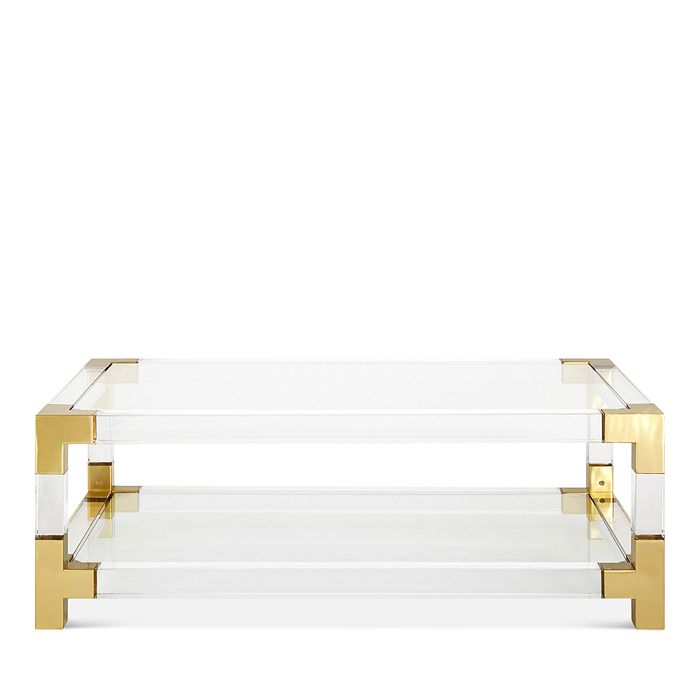 The perfect blend of simplicity and glamour, modern and traditional. In luxe clear acrylic with brushed brass accents, the Jacques Grand cocktail table by Jonathan Adler is low and loungey. The perfect size to pair with a sectional or grand sofa. Its second shelf creates plenty of space for storing and styling your favorite books and baubles.
Vertigo Center Table
Vertigo center table was made with sleek design giving a classy feel and a luxurious appeal. The unusual forms in gold plated brass involve the nero marquina marble making the center of living rooms the aura of your projects.
Bender by Minotti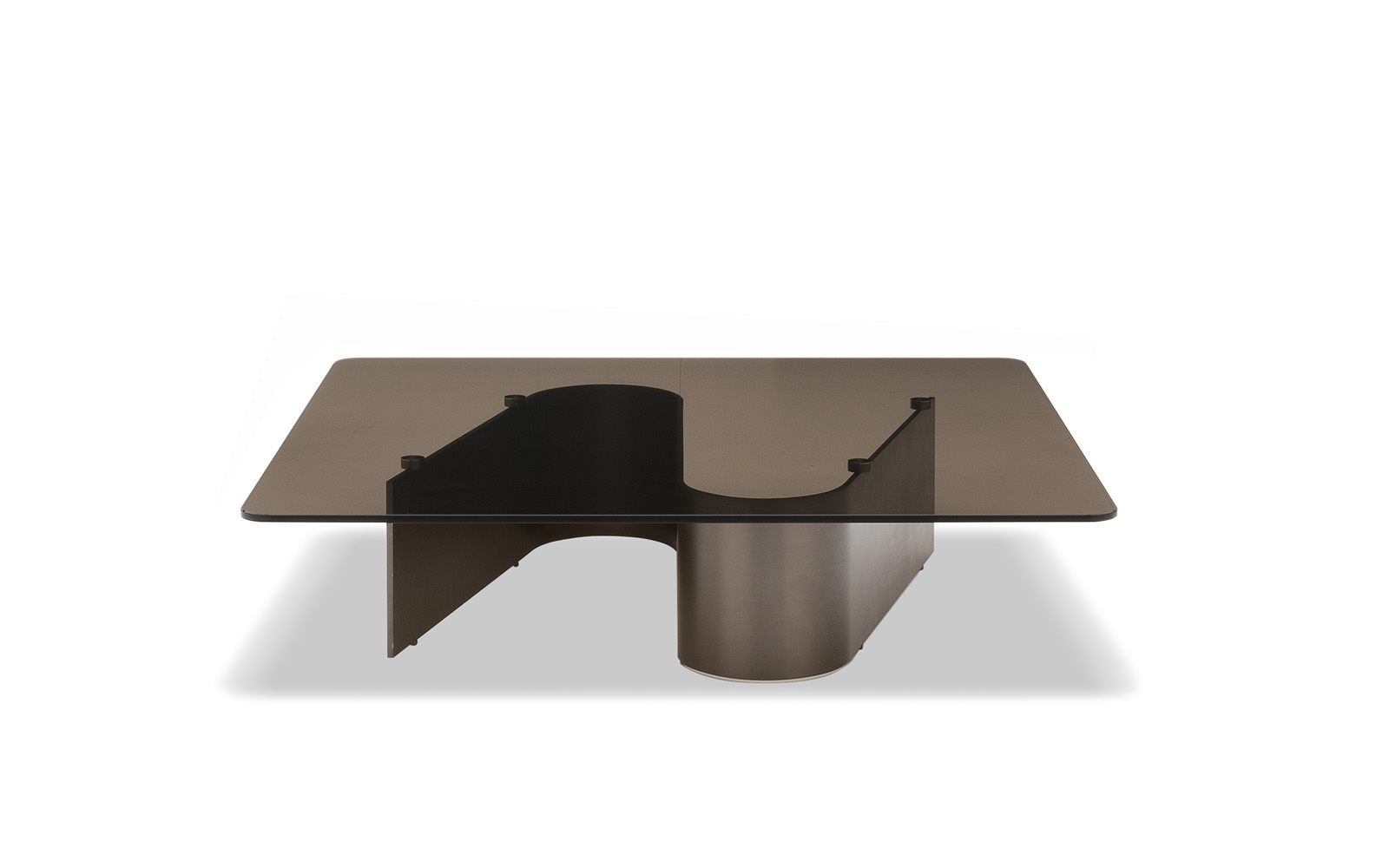 Minotti creates an amazing center and coffee tables, to make the perfect combination with the modern ambiance that you are looking for in your living room project. Bender can reinterpret the concept of a sheet of metal affected by the motion of a wave that curves and stretches. Stunning as usual!
Antigua Center Table by Caffe Latte
The circular shapes and round design of this elementary center table are inspired by the mountains surrounding the Guatemalan coffee plantation in Antigua City. The Antigua Center Table is not only luxurious addition to your interior design but also a true display of character and identity by the Caffe Latte brand.
Robusta Center Table by Caffe Latte
With an uneven shape, taking inspiration from the disformity of the sub-Saharian plains where the famous Coffea Robusta is grown, this center table has both a soft yet eye-catching presence. Its two marble tops resemble the hues of brown from the exquisite coffee beans and rest perfectly on a delicate and continuous bronze leg. The perfect piece to provide a simple and neutral complement to a modern interior.
Harlequin Eye by Jonathan Adler
An eye-conic expression of modern American glamour, the Harlequin Eye cocktail table pairs our signature wink of chic with a covetable colorway. Featuring glass panes reverse-painted in early-morning inspired shades, it's colorful yet quiet, edgy yet soft, petite yet powerful. For connoisseurial consideration – its dreamy, eye-shaped contour impeccably complements a curved sofa.
See also: The Perfect Bedroom Design with our Charla Collection
Beyond Center Table
An impressive display of elegance, Beyond center table shows the exquisite capacity to fill a variety of ambiences thanks to its luxury presence. This delicate work of brass, wood and marble reflects warm and golden tones on its polished surface.
Jacob by Minotti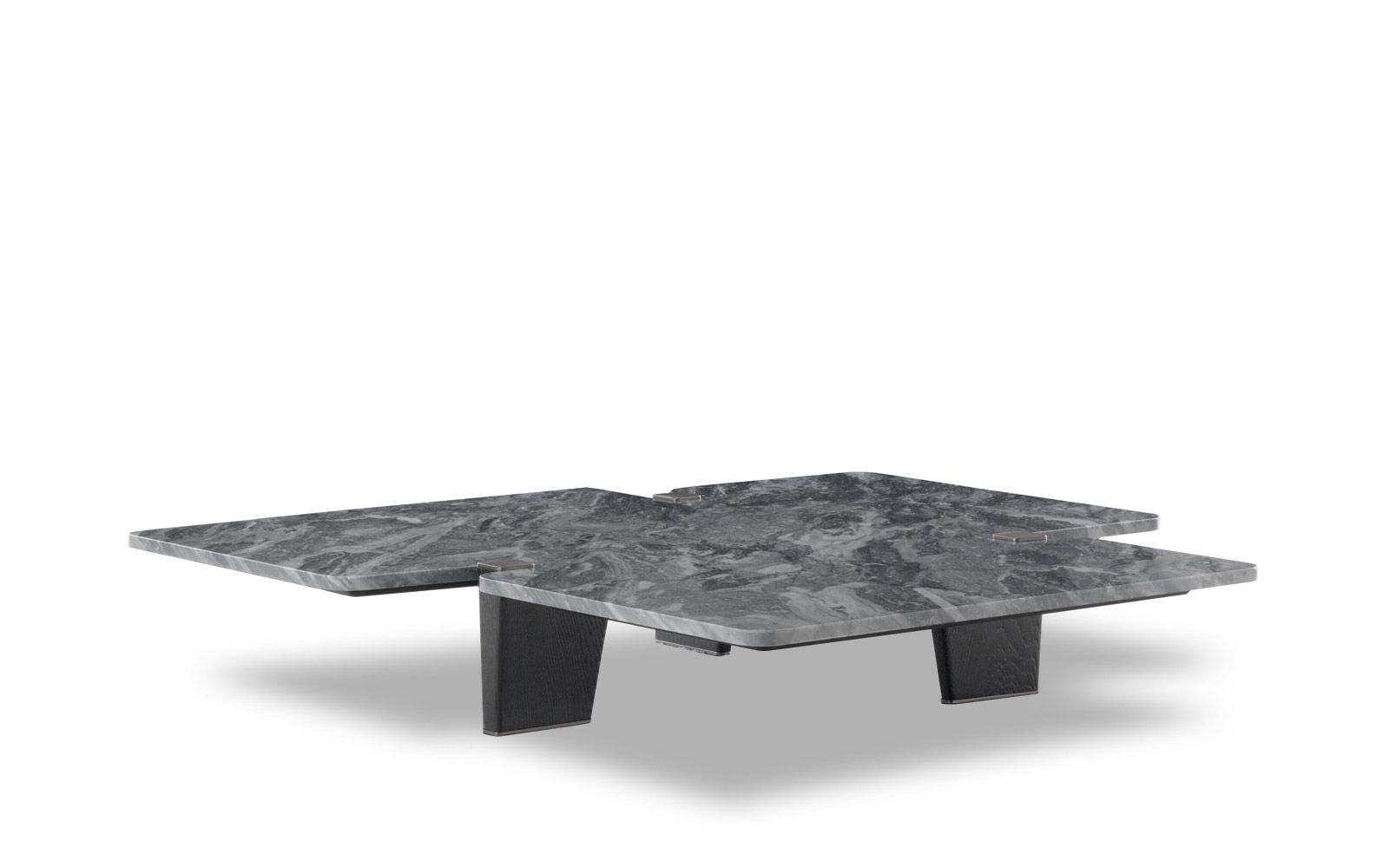 If you are looking for a versatile and unconventionally elegant center table, Jacob by Minotti is the solution. A piece that displays a variety in finishes and an uncommon shape, perfect for a modern living room that needs a touch of refinement and a bold character.
GOROKA Center Table by BRABBU
The Goroka tribe is known for its dazzling explosion of colour and feathers as a way to impress the enemy. GOROKA Centre Table takes inspiration from this tribe located in Papua New Guinea. It is coated in a glossy black lacquer making it a memorable centre table to place in any interior design.
Lallan II Center Table by BRABBU
The Lowlands of Scotland are called Lallans, which also refers to a combination of some Scottish dialects. Just like LALLAN Round center Table combines four different materials and finishes, such as palisander wood veneer, black lacquer, polished brass and antique brass. Despite their asymmetry, these blend perfectly into an elegant round coffee table.
Metamorphorsis Center Table by Boca do Lobo
The enormous success of the Metamorphosis Series gave birth yet to another unique creation – Metamorphosis Center Table. Similar to the dramatic transformation and the sudden change in the animal's body structure, Metamorphosis Center Table experiences new unexpected design techniques, noble finishes through a meticulous artistic process. The center table is composed by two fragments, finished in mirror and noble marble and beautified by the presence of golden creatures that are prepared for their ultimate metamorphosis.
Wave Center Table by Boca do Lobo
True classics never fail to make an impression and this is certainly the case for the Wave Table from Boca do Lobo. Nowadays, the traditional coffee table is no longer the only way to decorate the living room; recently coffee tables are taking original shapes and designs that give the living room a whole unique look through unusual forms and new materials. Wave is an original and a stylish coffee table for a modern living room as it is also an unconventional center table for your sitting room. With great style and elegance it creates an exclusive ambiance to your modern interiors. Developed by a Portuguese jewelry artisan, this piece is made of hand hammered copper with a black mirror top.
Empire Center Table
This center table has an extravagant shape of refinement and style. It is carefully made in brass and nero marquina marble. This is a combination between classic and modern design, perfect for every interior setting.
Chalon by Kelly Wearstler
The hand-carved wood top of the Chalon coffee table by Kelly Wearstler features exposed end grain allowing the unique qualities of the natural oak to be displayed. The wire brush finish merges with the wood's existing texture creating a raw yet refined table. This table is available in Ebonized, Bleached and Natural Oak finishes.
Scalinatella by Jonathan Adler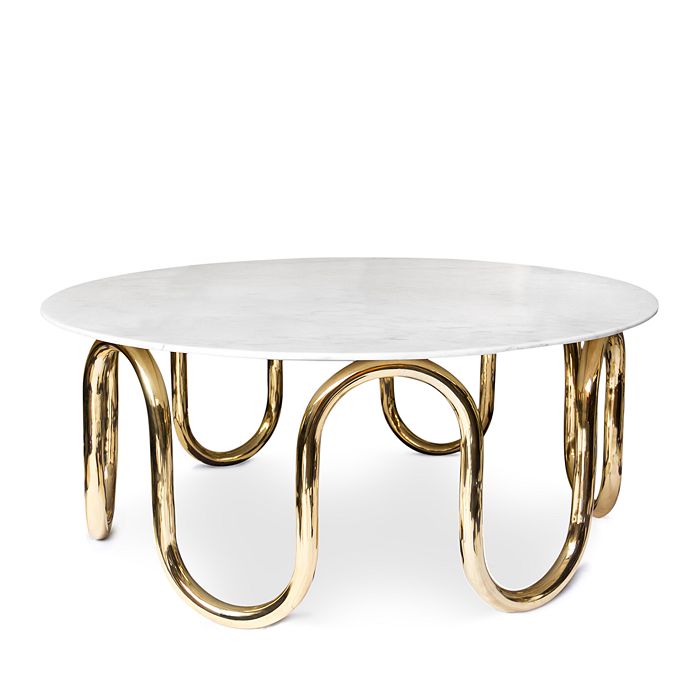 Made from a sinuous brass tube base with a Carrara marble top. Simple form, glamorous details, memorable twinkle. At home in a fantastical hotel in Capri or a Park Ave penthouse – by Jonathan Adler.
[brands-footer2]
Darian Center Table
The Darian takes up a new form, this time in a lavish center table. A proof that precise knowledge and expert craftsmanship can create a luxurious silhouette. Involving the glossy black lacquered wood are fine gold plated brass lines and it's finished off with a circular nero marquina marble top. A sumptuous piece that blends the splendor of art with a strong personality.
Melange by Kelly Wearstler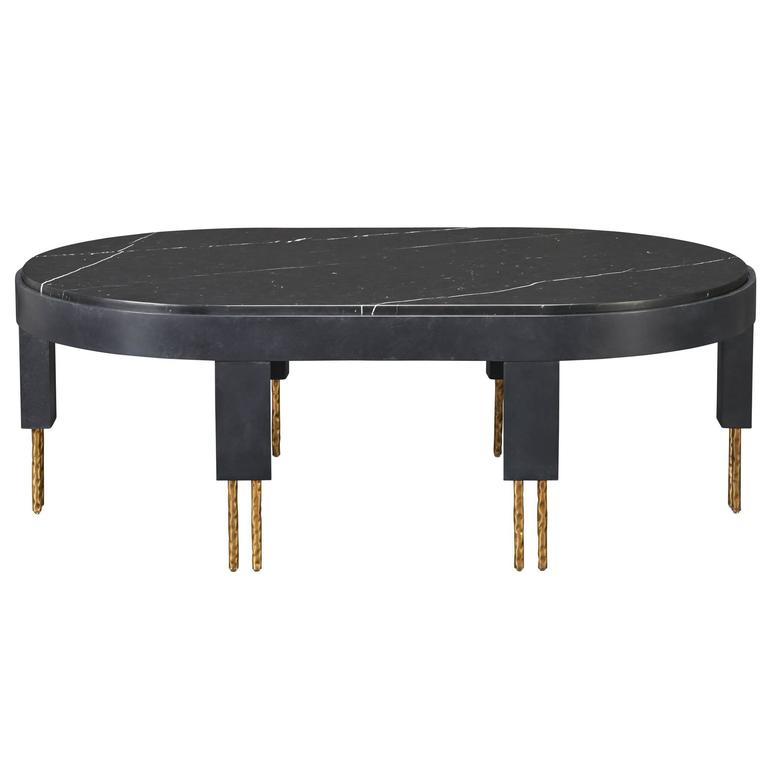 A racetrack-shaped marble-top compliments this low coffee table in hand-troweled plaster. The Melange table's legs in brass with a hand-wrought texture are prominent throughout the collection and add a touch of sophistication to the base.
See also: Lighting Trends That Will Embellish Your Outdoor Design
Raymond by Minotti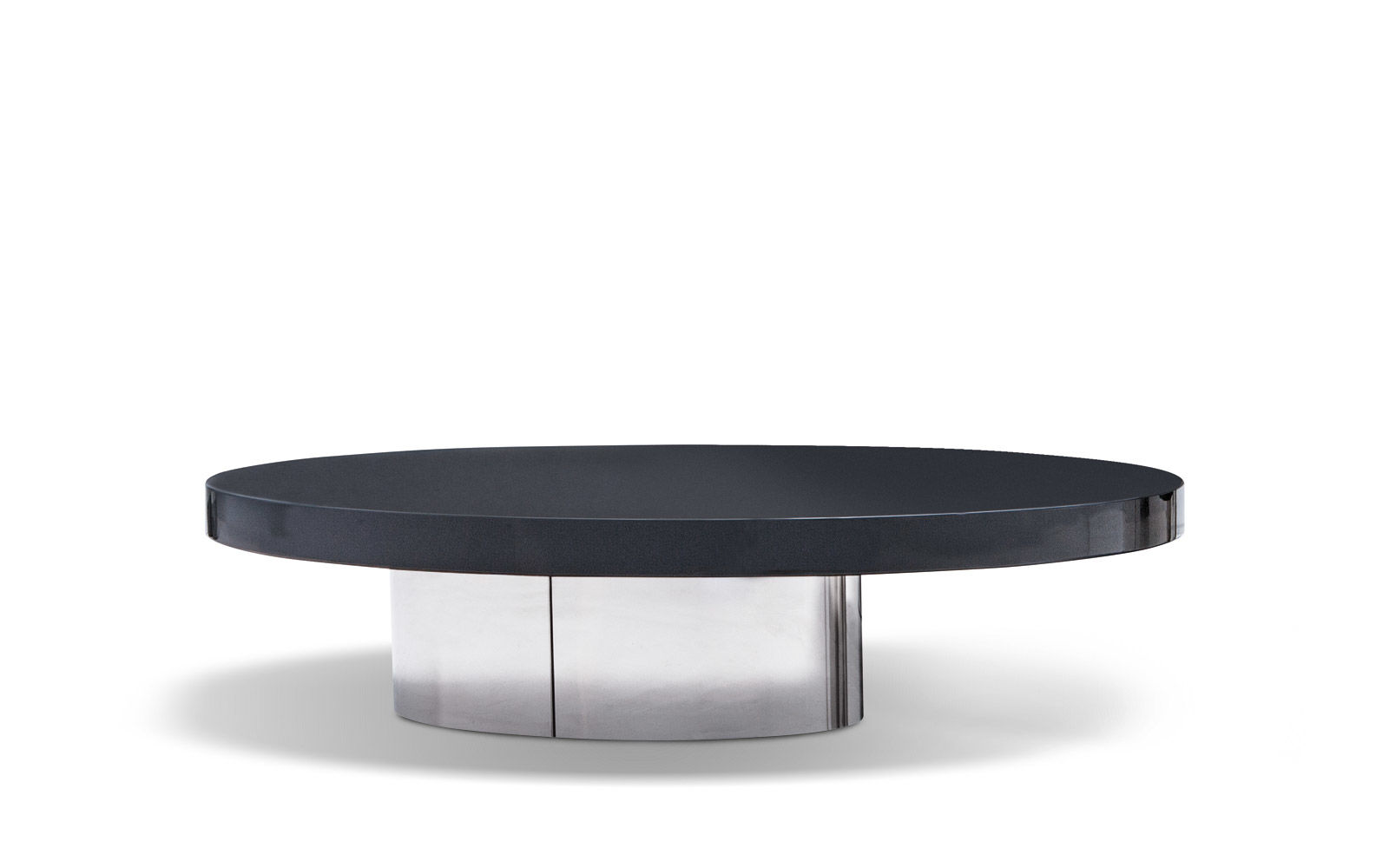 Minotti, with Raymond center table, wanted to add to the living spaces a touch of sophistication and elegance. Its asymmetry seems to challenge the force of gravity and the elliptical shape gives a special detach to the table.
Apotheosis Center Table
This center table embodies a living anthem of sophistication and exclusive design. The Apotheosis will revolutionize any division, creating a remarkable and unique atmosphere granted by the splendid harmony between the finest materials – polished brass, black lacquer, and emperador dark marble.
Morro by Kelly Wearstler
Hand-carved from solid stone, the Morro coffee table exemplifies modernity through geometric simplicity and form. The sculptural 3-sphere base and substantial top are each composed of solid Coulmier Limestone with a honed finish that enhances the richness of this beautiful natural stone. Also available in Nero Marquina and Endive marble.
See also: A Modern House In New York That Will Make Your Eyes Shine – Home Tour
Crackle Center Table
Following the same inspirational lines as the Crackler family, this piece stands itself by the complexity of the manual work on the brass and the technique used to apply the walnut root veneer. It will fit as a hotel lobby element as well as a table for the intimacy of your house.
If you enjoyed this article about The Most Exquisite Center Table Ideas or other interior design-related matters, then feel free to find more interior design inspirations on our Pinterest boards and Instagram page.