3 Travel Destinations That Should Be On Your List In 2023 – If you are already planning your travel schedule for 2023, this article is for you! The Most Expensive Homes Blog created a compilation of 3 travel destinations, including a selection of the best places to see and stay, to help you prepare for the new year ahead. Continue reading to discover more!
---
See also: Cristiano Ronaldo: Discover The Hotel In Qatar Where He Is Staying
---
3 Travel Destinations That Should Be On Your List In 2023
Singapore
Singapore is a land of culinary delights and architectural marvels, where lush vegetation and eco-friendly malls coexist. The numerous museums and landmarks honouring the Singaporean identity and cosmopolitan way of life are sure to delight history and culture aficionados.
The city itself is a vibrant, living example of religious and cultural plurality. There is no better place to experience a celebratory atmosphere than in the major ethnic neighbourhoods of Chinatown, Little India, and Kampong Glam
Must Visit
One of the most famous locations in Singapore is the Supertree Grove. The grove consists of 18 Supertrees which are made from reinforced concrete and wrapped in a steel frame and is one of the main attractions. The National Gallery houses thousands of items that display the region's rich artistic past and is a must-visit place for art and architecture fans. Other interesting places are the Universal Studios theme park and Orchard Road, the shopping district for luxury fashion lovers, where you can visit Hublot's boutique and see one of LUXXU's iconic pieces, the Empire Suspension.
Where To Stay
The Ritz-Carlton, Millenia Singapore
Visitors to The Ritz-Carlton, Millenia Singapore are surrounded by beauty due to its prime Marina Bay location. The hotel offers opulent lodgings, a collection of 4,200 works of art, and a Club Lounge with panoramic views of Singapore. Cantonese food at the Michelin-starred Summer Pavilion, Asian delights at Colony, and therapies at The Ritz-Carlton Spa, one of the first La Mer hotel partner spas in the Asia Pacific, are all available.
Editor's choice:

---
See also: Best Moments Of 2022
---
Benguerra Island, Mozambique
Benguerra Island is a stunning piece of Indian Ocean paradise and a luxurious beach vacation spot where time seems to have stopped. This island retreat is situated on a protected lagoon off the coast of Mozambique and is a part of the Bazaruto Archipelago National Park's marine protected area.
Mozambique is known for its clear waters and abundant marine life. Benguerra has subtly risen to prominence as a wild and slyly affluent retreat, making it the ideal travel destination for those who prefer to sunbathe and drink cocktails while on vacation.
Must Visit
Mozambique's Two Mile Reef is a must-visit place for those who are always ready for an adventure! Go for a snorkeling session and see the most beautiful coral reefs in the world, or if you prefer to stay on land what better than a trip to the Gorongosa National Park, where you can see elephants, lions, zebras, and crocodiles?
Where To Stay
Azura Benguerra Island Lodge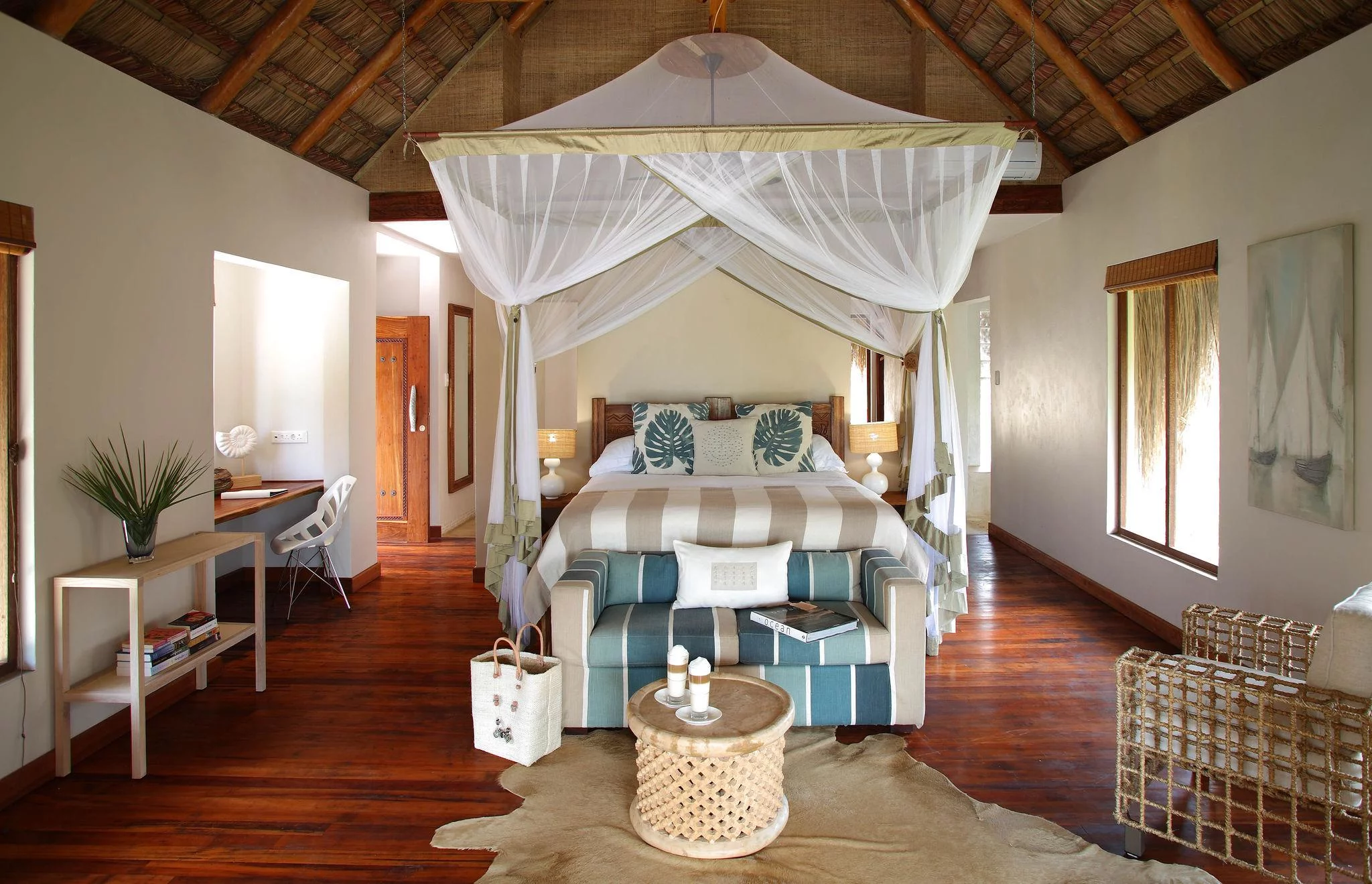 Azura Benguerra Island is the first luxury "eco-boutique" retreat in Mozambique and is recognized worldwide for its environmental efforts. The location has many different villas, all totally constructed by hand, each with private bathrooms, a direct connection to the beach, a well-stocked bar, native gardens, and a serene atmosphere. For the ultimate honeymoon experience, romantic dinners can be planned, which are typically served outside.
Editor's choice:
---
See also: La Mamounia Palace: Inside Morocco's Famous Hotel 
---
Douro Valley, Portugal
Given the grandeur and charm that its landscapes offer, the Douro Valley may just be referred to as the "enchanted valley." There are many ways to explore this cultural landscape, which is listed as a World Heritage Site, starting from Porto, where the river flows into the sea and where the Douro wines (table wines and Port wine), produced on its hillsides, are also stored. There are many ways you can travel around this region: by train, boat, or even helicopter.
The Douro Wine Region Valley, up to Barca de Alva, is the oldest demarcated wine region in the world. First, the river carved the deep valleys out of the land and then Man transformed the schist mountains into soil and walls and planted the vines, green in the summer, flame-coloured in autumn. We promise you, it is a truly stunning sight to see.
Must Visit
The Douro Museum in Peso da Régua is dedicated to the winemaking industry in the Douro Valley, which is the world's first wine region to be defined and governed. Pay it a visit to learn more about this craft through the permanent exhibit "Douro: Matter and Spirit". You can also enjoy a cocktail or a glass of Porto Wine on the rooftop of the museum while looking at the river. You can also take a trip on the Douro Historical Train for a journey back in time. The journey follows the banks of the Douro River and allows you to experience a unique adventure in a steam locomotive and its 5 historical carriages, between Régua and Tua.
Where To Stay
Scenic Azure
The cutting-edge river cruise ship Scenic Azure was built in 2016 with travelling the Douro River in mind. Relax on the Sun Deck or enjoy the panoramic views of your trip along the lovely Douro River in the Panorama Lounge and Bar. Scenic Azure allows you to experience the whole region in a luxurious way!
Editor's choice:
---
See also: Sierra Blanca Modern Villa
---
If you enjoyed this article regarding 

3 Travel Destinations That Should Be On Your List In 2023

, you can also find more interior design inspirations on our Pinterest boards and Instagram page